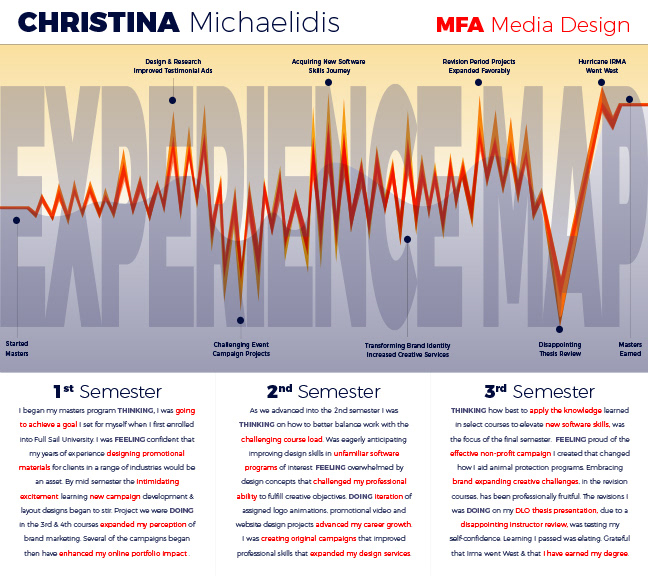 1. Connecting, Synthesizing and Transforming
- 
The Rainy Day Toy's brand was transformed for a logo design for a small local toy manufacture to a style guide from which they can build a brand identity to be competitive within global retail markets. It establishes a definitive set of rules to build consistency within promotional campaigns that will forge a sense of trust in purchasing target markets. Consumers will come to connect the images of wholesome looking children, joyfully playing with their line of wooden toys as the ideal synthesize to their childrens' education and entrainment.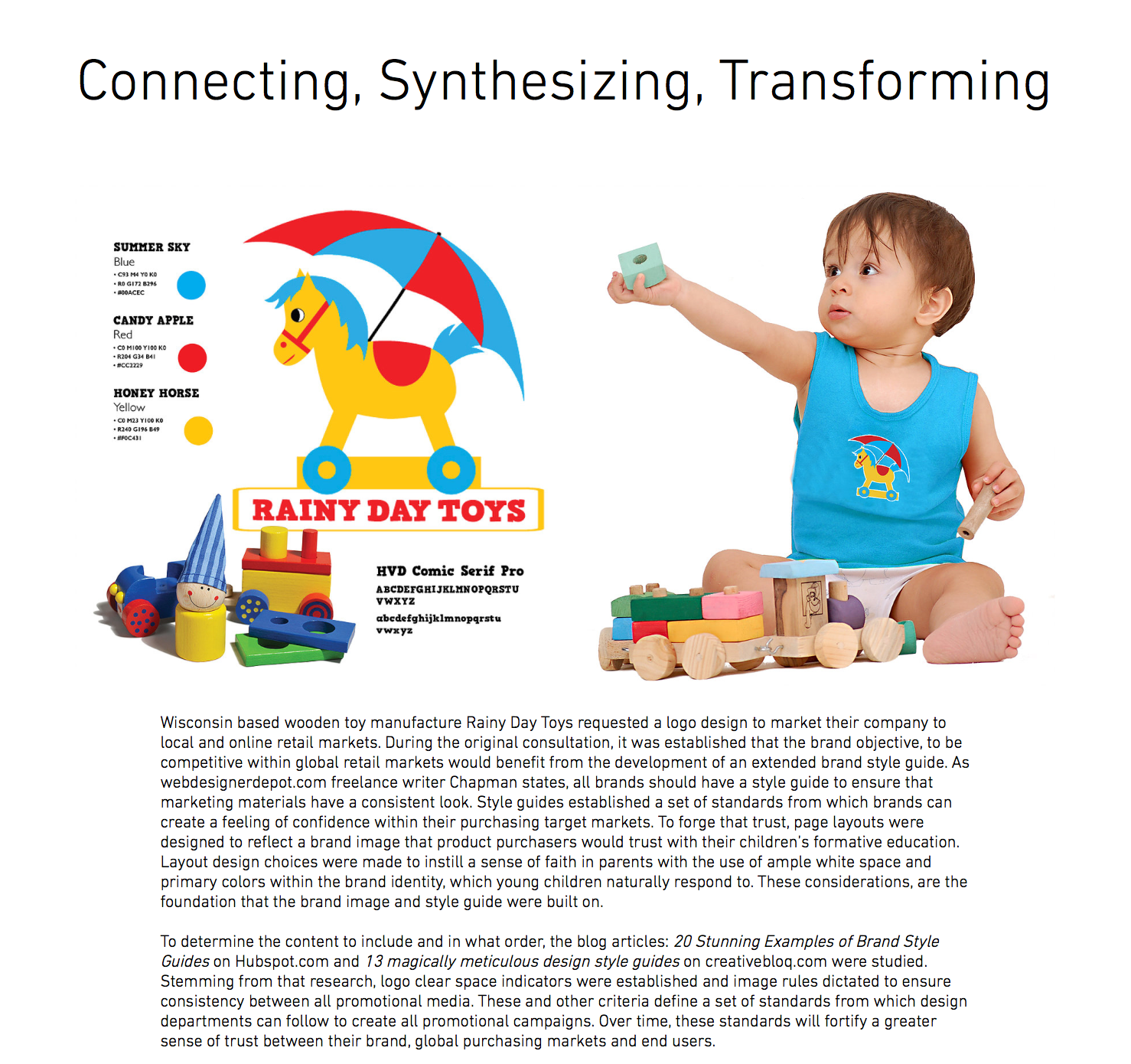 2. Solving Problems
- 
The original Green Sea Fest website design failed to meet design expectation due to limited experience and poor design choices. The des
ign, which was meant to feel inviting to a broad community demographic, reflected in the event mood board, felt restrictive and dated. Despite the obvious design problems, creative solutions where not easily achieved. To find the right expressive formula to solve artistic questions, industry design trends were studied and aid was sought, from within trusted design networks.
After several iteration, supported by professional resources, the final event website is visually appealing and reflective of the intended event image.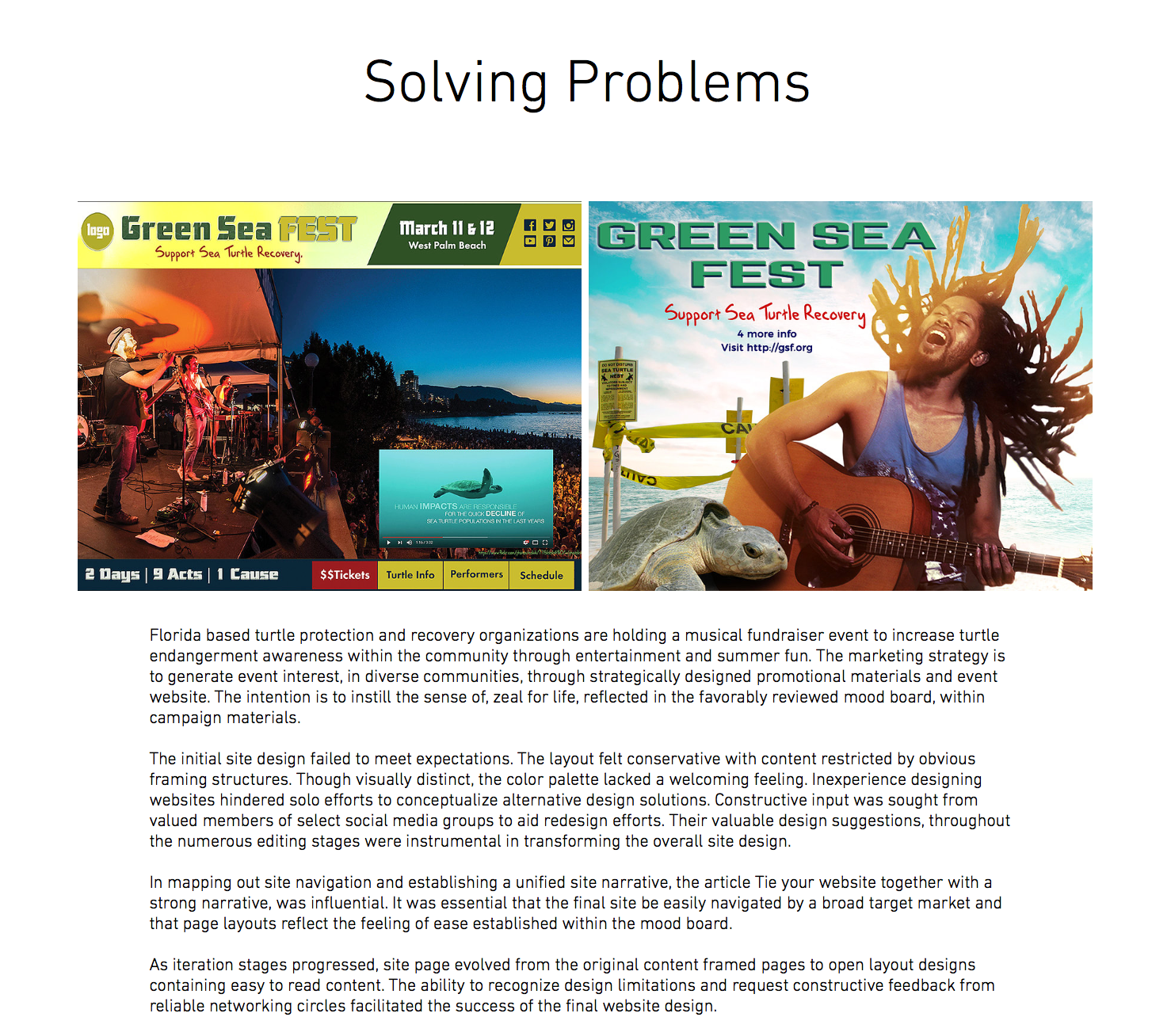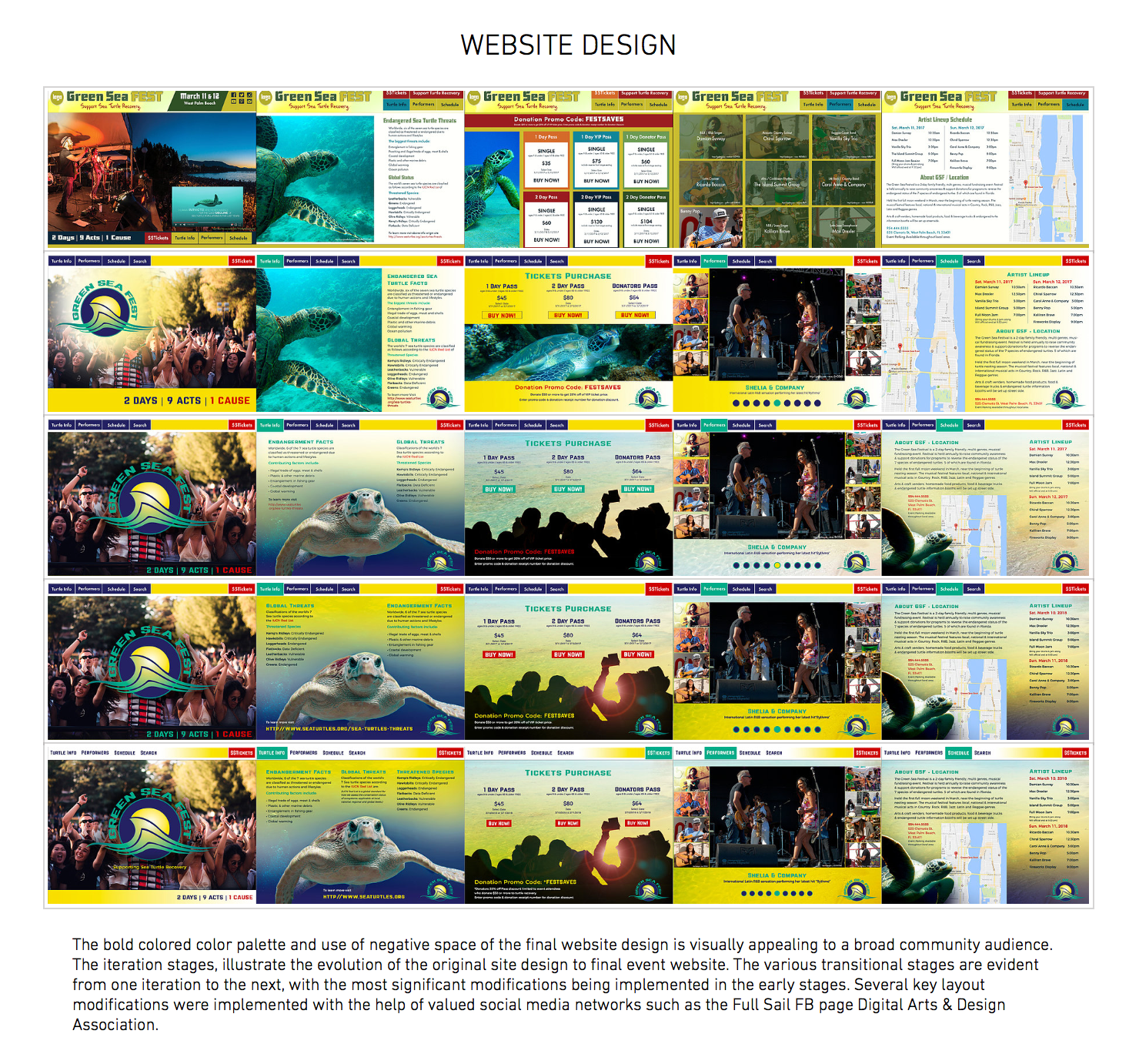 3. Innovative Thinking
- In formulating an innovative way to raise awareness for animal endangerment and Wildlife Conservation Society (WCS) protection programs the question was asked: How do we make animal endangerment manageable while instilling a sense of urgency? The solution, the visually engaging "we are" campaign. The organization WWF have done similar campaigns with emotional pleas ads such as "I am not" and "This could be". These both that lack the commanding headlines that distinguish the WCS campaign. The impact of the headlines demanding your help, via a direct 2-word command to action, is impactful within the majority of the target market, as supported by market survey questionnaire responders. The strength of the campaign is it's ability to be equally effective for a broad range of animal specie concerns within print and digital mediums.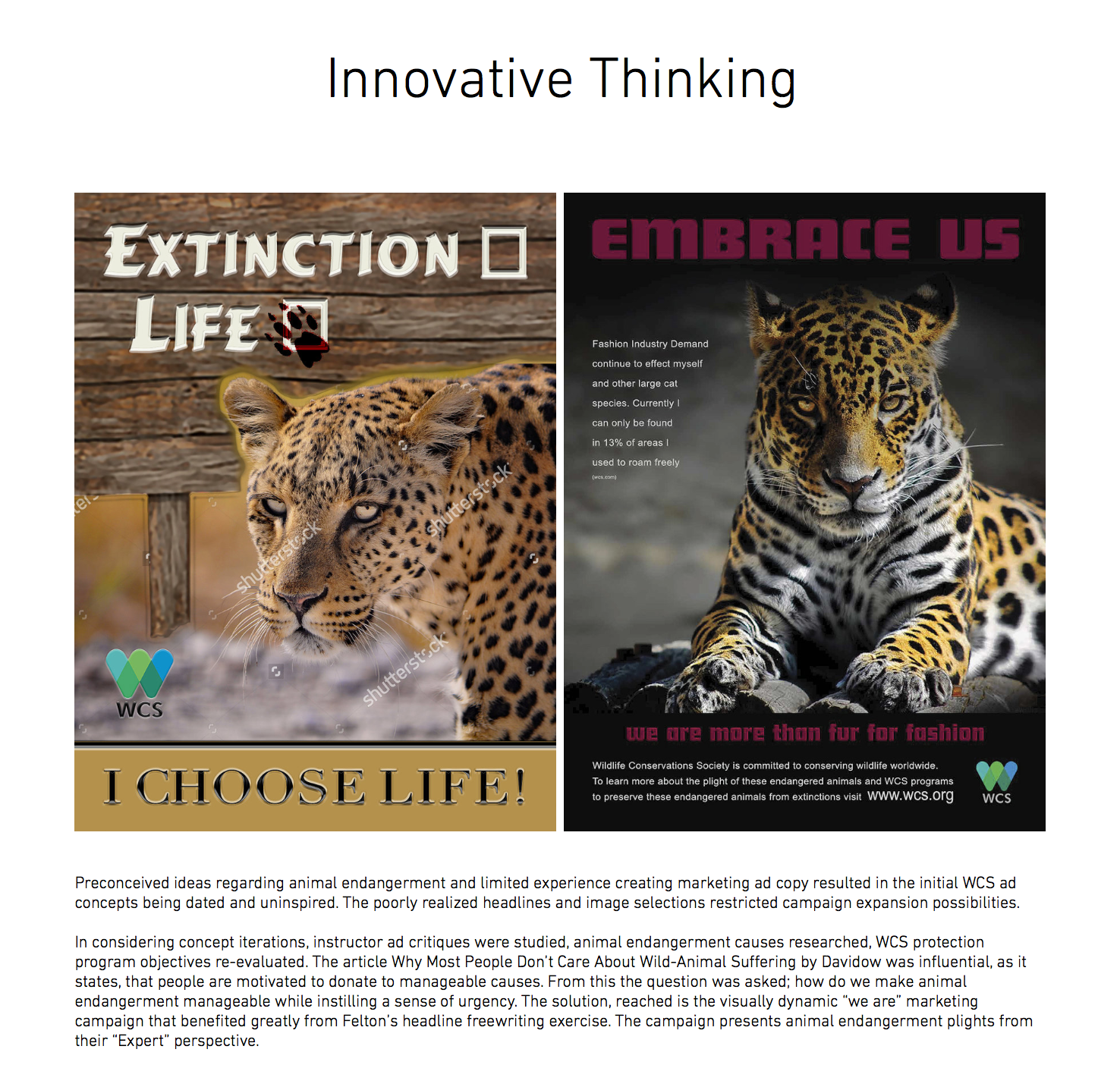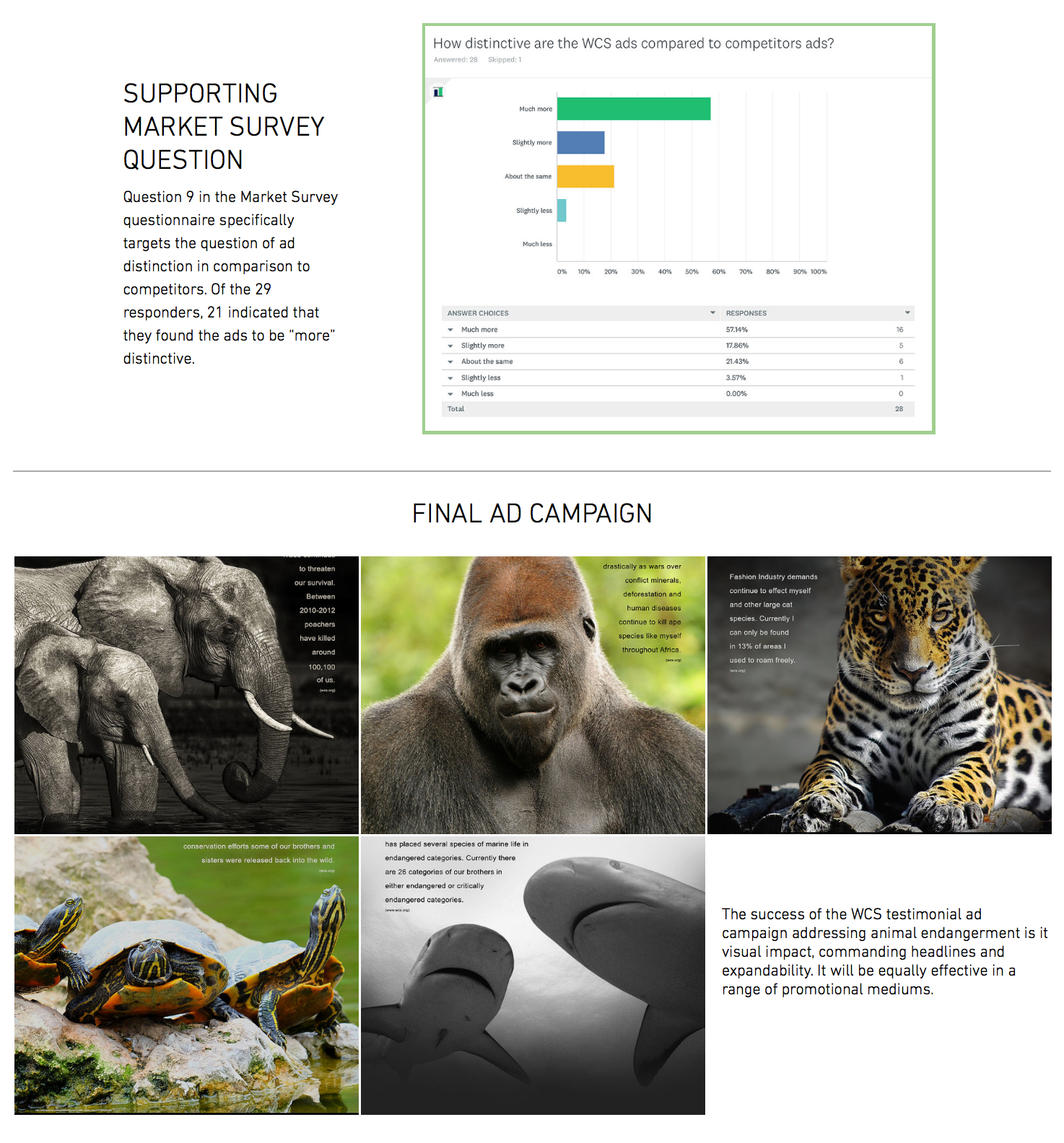 4. Acquiring Competencies
- 
The first GSF logo animation and promotional video productions suffered form design concepts hindered by limited software skills. To elevated software abilities, reference reading were researched, sample animations studied and tutorials for both Adobe After Effects and Premiere Pro software programs watched. Various effects, movements and transitional variation were sampled to increase software exposure and enhanced abilities. Motivated by a desire for improved skills sets, additional animations were created for the RDT brand identity. The noticeable improvement seen between both the first logo animations and promotional event video to the finals storylines is a testament to the skills gained in both programs. Within all final designs timing has been improved, narratives clarified and video image transitions are smoother within a purposeful storyline order.